Want to know more about us? Click any of the following topics:
CONDENSED BIOGRAPHY. . .RONALD SINGERTON
CONDENSED BIOGRAPHY. . .DARLA SINGERTON
ARTIST STATEMENT. . .RONALD SINGERTON
---
RONALD C. SINGERTON, Condensed Biography
A former high school teacher of art and history, Ron Singerton is a native of California. After graduating from California State University in Long Beach, he served in the U.S. Army and for the last thirty years has developed an expertise in painting as well as crafting bronze, stone and glass.

Though many of his works are representational and even evoke impressionist techniques, he has avidly plunged into the world of experimentation with abstraction in oil, acrylics, and his sculptural designs.

As an award winning artist, he has displayed in numerous shows and galleries and is currently involved in the creation of large canvases and monumental size bronze sculptures. He is a full time artist and lives with his wife, Darla, in the mountains near Idyllwild, California.

Singerton Fine Arts Gallery is family owned and operated. The art business has flourished since 1993 serving a large spectrum of art venues. The Singerton name means quality and workmanship and individual attention to a growing group of friends and clients.
---
DARLA SINGERTON, Condensed Biography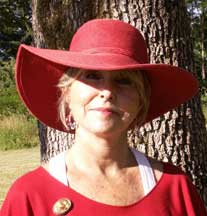 "Take the leap" has always been Darla's favorite mantra. Raised in the Northwest, she has spent most of her adult life as a law enforcement officer in Southern California. Retiring in the capacity of Police Chief, she took another "leap" into the creative venues offered through jewelry and photography.

Designs by Darl

a has allowed her to fly past the "rules" that have governed much of her life and produce "one-of-a-kind" creations that sometimes challenge the inner self. Her enjoyment in working with a diversity of materials and ideas is reflected in the striking beauty and resonance of the totality of her work.

Darla has displayed in numerous fine art shows and galleries. She contributes the success of her line to the unique nature of each creation; and, of course, to the collaborative efforts of her husband, Ronald Singerton. He contributes his many skills in kiln, stone cutting, and design to the creative process. Designs by Darla is a dba of Singerton Fine Arts.
---
As a former teacher of art and history, I have always considered sculpture and art in general to be a reflection of life and human events. I strive to create meaningful art - art that talks to us. In the past, my artwork was largely representational and patterned after historical images and the spirit of living. Currently, I am channeling my creativity toward the exploration of color relationships, color mixing and expression in both 3-Dimensional and 2-Dimensional art. With a virtually endless artistic palette of color mixes, I feel a true connection with the emotion, drama and versatility of each piece of artwork. I have tried to demonstrate my love and knowledge of history in many of the representational pieces. My early years were strongly influenced by pathfinders in cowboy art such as the sculptors Charlie Russell, Solon Borglum, and Frederick Remington. Also, as a Civil War re-enactor, my sculpting interests include this period of history full of color, valor, and pathos. Early Singerton pieces capture many of these memorable vignettes. These sculptures maintain a purity of "truth" in the hot cast bronzes relying on bronze-toned patinas to emphasize the true casting material.

My recent artwork reflects a new exploration of form and movement. In some of these, I have retained the recognition of life forms that combine my unique signature style and dynamic flow evidenced in a large body of stylized work centered around horses, lions, and exotic wildlife. I have also been experimenting with original sculptures using carved and polished stones of alabaster, onyx and marble combined with hot cast bronze. This experimentation has added an exciting element to my creations. My continual quest for a new method or process provides unending challenges and unique works of art including semi-abstract paintings of monumental size.

Even though Singerton Sculptures have been featured in many galleries and commercial venues, I enjoy the personal contact of clients, friends, and other artists participating in selected art shows where I have received numerous awards and recognition. Ron "breathes" in people as others would the air -- and when he walks away, it is with renewed inspiration.

[ Return to Top ]

---
Singerton Fine Arts have been held in the collection of:

Artistic Expressions, Scottsdale, AZ
Baker Galleries, Idyllwild, CA
Bronze, Silver and Gold Art Gallery, Cambria, CA
Serenity Place Art Gallery, Big Bear Lake, CA
Splendid Sentiments, Vista, CA
Banning Center for the Arts, Banning, CA
Somewhere In Time, Cambria, CA
Water's Edge Gallery, Rancho Mirage, CA
CIMA Muebleria, Mexico
Indian Outpost, Palm Desert, CA
San Diego Hardware, San Diego, CA
Mason Gallery, Idyllwild, CA
Moda's Design Gallery, Palm Springs and Palm Desert, CA
Arrowhead Gallery, Lake Arrowhead, CA
Virginia's Gift Shop, Knots Berry Farm, Anaheim, CA
Gettysburg Museum, Gettysburg, VA
Delta Queen Steamboat, River Cruise Boat
The Firehouse Museum, San Diego, CA
Pharaoh's Lost Kingdom, Redlands, CA
Riley's Farm, Oak Glen, CA
The Soldier Factory, Cambria, CA
Riverside County Law Enforcement Museum, Riverside, CA
Farnsworth House Military Impressions, Gettysburg, PA
Reagans Library and Gift Shop, Yorba Linda, CA
Tre-Sorelle, Raleigh NC
Rock Resources, Inc., Scottsdale, AZ
In Furnishings, Inc., Phoenix, AZ
Mr. B's Z Place, San Juan Bautista, CA
Unique Accents, Phoenix, AZ
Designs M, Paradise Valley, AZ
Wishes, Tucson, AZ

[ Return to Top ]
Singerton Fine Arts Commercial Commissions Include:
Pacific Art & Design, Anaheim, CA
The Blue Coyote Grill, Palm Springs, CA
Baja Bronze, Chula Vista, CA
Schumacher's New Prague Hotel, Minn.
R. F. Orchids, Inc., Homestead, FL
The Pampered Horse & Rider, Inc., Scottsdale, AZ.
Kiwanis – District Associations
Shamrock Foods, Commerce City, CO
Custom Lights and Iron, San Diego
Rotary – District Associations
H&R Bronze, Inc., Ontario
Valley Partnership, Palm Desert, CA
International Sheep Hunters Association
San Gorgonio High School Student Body, San Bernardino, CA
Safari Club International – District Associations
Entrada Designs, Banning, CA
Exhibits Include:
Idyllwild Jazz Festival, Idyllwild, CA
Desert Arts Classic, Indio, CA,
Wisteria Art Festival, Sierra Madre, CA,
Sculpture in the Streets, Mesa, AZ
Palm Desert Art Festival, CA 2003 (Best of Show) 2004
Pebble Creek Art Extravaganza, AZ
Kimberly Crest Plein Air Day, Redlands, CA
Rancho Mirage Art Affaire, CA,2001,2003,2004 (1st Place-Sculpture-all)
Loveland Sculpt Invitational, CO
Artist of the Month, City of Banning, CA, 2002
Palm Springs Art Festival, Palm Springs, CA
Featured Artist, Palapas, Palm Desert
San Diego Design Expo
Scottsdale Fine Art Festival, Scottsdale, AZ
Carefree Fine Art Festival , Carefree, AZ
Fountainworks Festival, Cathedral City, CA
Fine Art Santa Barbara
Safari Club Int'l, Reno, NV
Redlands Art Assoc, "Art Alive"
Featured artist, PANgAE, Palm Desert
Encinitas Poinsettia Festival, Encinita, CA
Numerous Home, Gift & Design shows

[ Return to Top ]
Fund Raisers Include:
Guide Dogs of the Desert, Palm Springs, CA
Safari Club International, Tucson, AZ
Sunrise Rotary, Riverside, CA
Foundation for the Retarded, Palm Desert, CA
Kare Bears, Pebble Creek, AZ
Professional Memberships:
Artists-In-Residence (AIR)
Pass Cultural Arts Foundation
Redlands Art Association
Kimberly-Shirk Association, Artist Member
Chamber of Commerce-Member numerous cities
Awards and Recognition Assoc.
Fontana Art Association
Art Alliance of Idyllwild
Contact Us for orders, questions or concerns!
Web address: www.singertonfinearts.com
---
Last updated July 2008