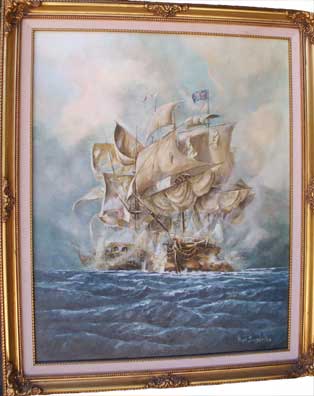 The artist's great love of history flows from every brush stroke in this magnificent painting of the epic naval battle of the Napoleonic age that spared Britain from invasion.
In a time of "wooden walls and iron men", Admiral Lord Nelson signaled the fleet, "England expects every man to do his duty." This simple, but resounding call invigorated her sailors and marines as heavily gunned "Ships of the Line" exchanged broadsides on that fateful day.
To the artist, the shouts of the men amongst the blinding smoke and exploding timbers, the terror and the incessant thundering of the guns, present an indelible image of courage and glory for all time.

ORIGINAL PAINTING
Approximate Framed Size: 29"H x 35"W
Oil Painting on Canvas

Catalog Number: 97P
PRICE $2395

Trafalgar is an exclusive copyright of Singerton Fine Arts. For more information or assistance, please contact us.
Last updated March 2010
Copyright © Singerton Fine Arts. All rights reserved.