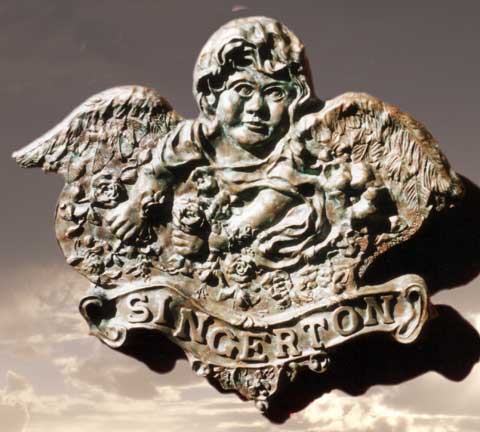 CHERUB©

In designing this hot cast bronze tableau especially for the outdoors, Sculptor, Ron Singerton created an angel's bouquet of dreams. Adapted for gates, fences, doors and walls, the back of each tableau is fitted with a sturdy chain for hanging and is also tapped for bolts.
This timeless work of art can be individually personalized with the purchaser's name. The museum bronze color was chosen to accommodate the weathering oxidation of outdoor elements as seen on treasured works of antiquity. Each tableau has the authenticity found only in true hot cast bronze...An investment that not only enhances the personal or corporate image, but is rich in artistic and increasing intrinsic value.

Approximate Size: 21 1/2"H x 24" W x 3"D
Catalog Number: 7B
Casting Required: 4-6 Weeks Delivery
PRICE $699

Cherub Tableau is an exclusive copyright of Singerton Sculptures. For more information or assistance, please contact us.
[ Return to Top] or [Return to Other Artwork Listing]
Contact Us for orders, questions or concerns!
Web address: www.singertonsculpture.com
---
Last updated February 2007
Copyright © Singerton Sculptures. All rights reserved.