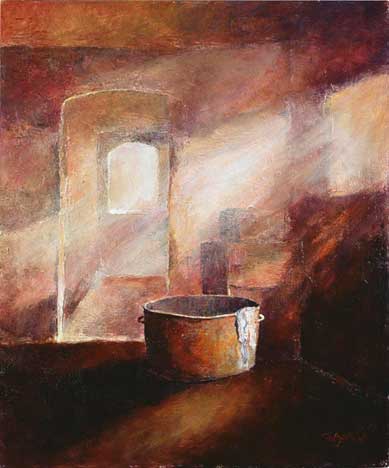 TUSCAN LIGHT©
The richly colored canvas catches the play of sun and shadow in Tuscan Light. In this beautifully framed acrylic, artist Ron Singerton has integrated specialty polymers and glazes to walk the eye through a journey of visual exploration.
Giclee` Canvas Prints are signed and numbered.
Tuscan Light will be shown at select art shows throughout the year.

GICLEE` CANVAS PRINT
Only one available
Catalog Number: 75P
Size: 24"H x 20"W
Price $695
Tuscan Light is an exclusive copyright of Singerton Fine Arts. For more information or assistance, please contact us.
Contact Us for orders, questions or concerns!
Web address: www.singertonsculpture.com
Last updated March 2010
Copyright © Singerton Fine Arts. All rights reserved.