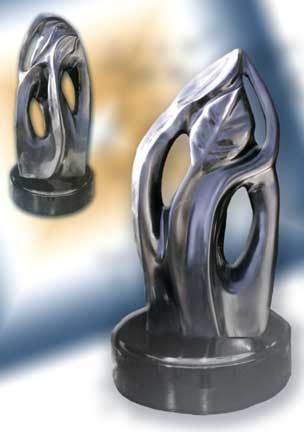 EBONY GARDEN
Sculpted flower forms flow over soft curves and lead the eye to exciting concave leaf impressions. Ebony Garden is a delight to be enjoyed from every angle of the 360 degree turning base. It's iridescent quality picks up the colors of surrounding light and adds a fourth dimension.
A Certificate of Authenticity accompanies the sculpture and a strict record of sales is maintained at Singerton Sculptures. Ebony Garden will be shown at select art shows throughout the year.

ONE OF A KIND
Approximate Size: 24"H x 12" Circular Base
Carved and Polished Black Bombay Steotite Stone
Catalog Number: 70S
Black Marble Rotating Base
Price $1299
Ebony Garden is an exclusive copyright of Singerton Sculptures. For more information or assistance, please contact us.
[ Return to Top] or [Return to Stone Listing]
Contact Us for orders, questions or concerns!
Web address: www.singertonsculpture.com
Last updated February 2010
Copyright © Singerton Sculptures. All rights reserved.