If you have a passion for beautiful stone, the ETERNAL GARDEN will be just the thing to fit your decor and your passion.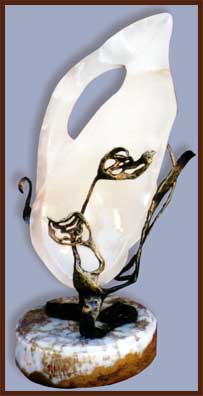 This hand-carved, translucent Italian Alabaster Stone with subtle leafing carvings is cradled in a striking counterpoint of cast bronze leaf-like tendrils.
The completed two piece sculpture is attached to a rare, gold patterned onyx base that rotates to provide continually new and enjoyable viewing.
A Certificate of Authenticity accompanies each sculpture and a strict record of sales is maintained at Singerton Sculptures. This sculpture is not available through any commercial venue and will be shown at select art shows throughout the year.

Edition Size: One of a Kind
Approximate Height: 27 1/2"H x 15 1/2"W
Catalog Number: 69BS
Onyx Base
SOLD

Although
this item is no longer available, please contact
us if you are interested in artwork with a similar design.
Eternal Garden is an exclusive copyright of Singerton Sculptures. For more information or assistance, please contact us.
[ Return to Top ] or [Return to Artwork Listing]
---
Last updated July, 2006
Copyright © Singerton Sculptures. All rights reserved.