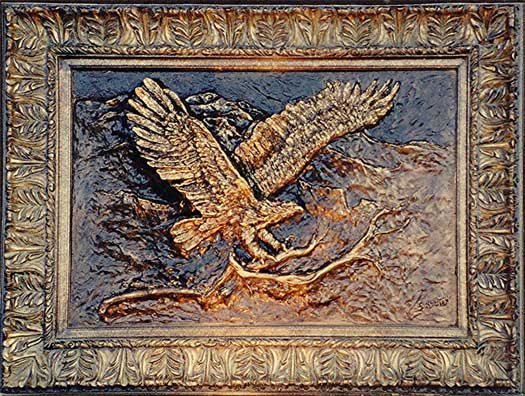 Wall Sculpture in Bas Relief
Powerful grace, bold detail, lightweight and beautifully handcrafted for your home or office decor. Soaring Eagle was designed and created by American artist, Ronald Singerton.
Each wall sculpture is individually cast and hand painted using a variety of colors and metal-cast patinas. The composition material is a sturdy lightweight polymer compound.
Edition Size: 16
Approximate Size: 35"H x 47"L x 4"D
Catalog Number: 66F
Wall Sculpture
Currently Available
PRICE $595
Soaring Eagle is an exclusive copyright of Singerton Fine Arts. For further information or assistance, please contact us
Contact Us for orders, questions or concerns!
Web address: www.singertonfinearts.com
[Return to Wall Sculptures Listing]
---
Last Updated July 2008
Copyright © Singerton Fine Arts. All rights reserved.