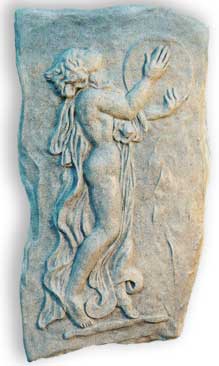 GRECIAN LADY WITH TAMBOURINE
One in a series of four wall plaques inspired by a massive
stone carving currently on display in
the British Museum, London, England (Circa 280 B.C.)
The ancient reveler, Grecian Lady with Tambourine, is perfect for that corner or niche needing just the right touch of quiet elegance or combined with the other plaques in the series to create a striking focal point.
Sculptor, Ron Singerton, has captured the essence of treasured antiquity using a mix of bonded sand and resin polymers. Each plaque is hand cast and no two are identical. Irregularities found in each one further enhance the aged "stone" appearance. Each plaque is fitted with a hanging wire.

Approximate Size: 9 1/2"W x 15 1/2"L
Catalog Number: 51R
Faux Stone
Currently Available
PRICE $69 or $250 series of 4

Be sure to check out the other beautiful plaques in this series
(Click on thumbnail for larger photo)
Grecian Lady with Tambourine is a Singerton Fine Arts exclusive. For more information or assistance, please contact us.
[ Return to Top ] or [Return to Other Artwork Listing]
---
Last updated July 2008
Copyright © Singerton Fine Arts. All rights reserved.