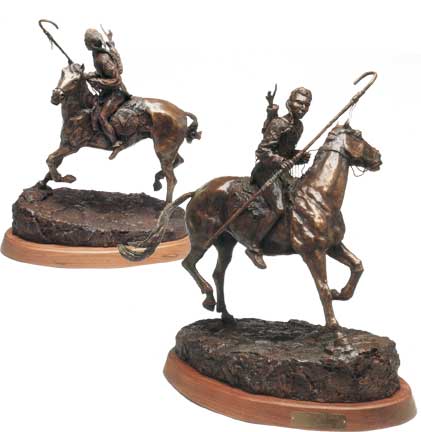 In a haunting rendition of a mounted plains warrior, a Crow brave holds his "Coup Stick" ready for battle. To defeat his foe in great honor, he will make his strikes without inflicting a mortal wound (hence, the term "counting coup").
This striking bronze masterpiece has captured the majesty of our native American heritage. Every detail has been authenticated through extensive research by sculptor, historian and horseman, Ron Singerton
ONE ORIGINAL ONLY
Approximate Size: 25"H x 22"W
Hot Cast Bronze on Rotating Wooden Base

Catalog Number: 3B
Currently Available
PRICE $2295

Spirit of the Coup is an exclusive copyright of Singerton Fine Arts. For more information or assistance, please contact us.
[Return to Bronze Sculpture Listing]
Contact Us for orders, questions or concerns!
Web address: www.singertonfinearts.com
Last updated February 2010
Copyright © Singerton Fine Arts. All rights reserved.