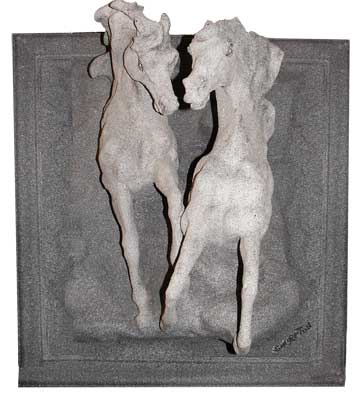 Wall Sculpture in high relief. Artist, Ron Singerton, has created a powerful apparition of thunder and majesty in this beautifully handcrafted work of art for home and office decor.
Edition size: 2
Approximate Size: 28"W x 28"H x 17"D
Catalog Number: 34R
Faux Granite Stone - Resin Casting
Currently Available
PRICE $699

Cloud Stallions is an exclusive copyright of Singerton Fine Arts. For further information or assistance, please contact us.
[Return to Wall Sculptures Listing]
Contact Us for orders, questions or concerns!
Web address: www.singertonfinearts.com
Last updated March 2010
Copyright © Singerton Fine Arts. All rights reserved.