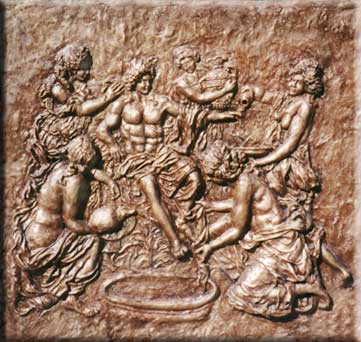 The artist's love of ancient fables is characterized in this circa 1675 AD fresco inspired by Giradon's life size sculpture in Versaille Park, France.
This wall sculpture is cast in Bronze.
Apollo Tended by the Nymphs is an exclusive copyright of Singerton Fine Arts. For further information or assistance, please contact Singerton Fine Arts.
Edition Size: 2
Hot Cast Bronze
Approximate Size: 34"W x 32"H x 2 1/2"D
Catalog Number: 33R
Wall Sculpture
Price $1695
[Return to Wall Sculpture Listing]
Contact Us for orders, questions or concerns!
Web address: www.singertonfinearts.com
Last Updated March 2010
Copyright © 2004 Singerton Fine Arts. All rights reserved.