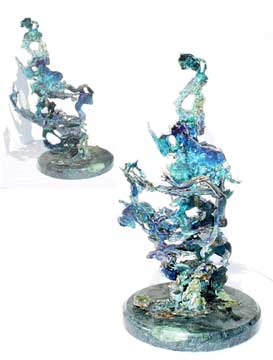 The abstract beauty of this striking table top sculpture is sure to captivate the heart of anyone that is looking for an unusual twist in home or office decor. It is an authentic, one-of-a-kind, handcrafted, original sculpture by Ronald Singerton. Vibrant patinas have been applied to uniquely welded bronze patterns and accented with fused glass.
The sculpture is attached to a green and black patterned marble base that rotates to provide continually new and enjoyable viewing.

Limited Edition of ONE
Approximate Size: 23 1/2"H x 12"W x 13"D
Catalog Number: 28B
Rotating Green Variegated Marble Base
SOLD
Although this item is no longer available, please contact us if you
are interested in artwork with a similar design.

A Certificate of Authenticity accompanies each sculpture and a strict record of sales is maintained at Singerton Sculptures. This sculpture is not available through any commercial venue and is shown at select art shows throughout the year.

Fantasy in Coral Bronze is an exclusive copyright of Singerton Sculptures. For further information of assistance, please contact Singerton Sculptures.
[ Return to Top ] or [Return to Sculptures Listing]
---
Last Updated November 2004
Copyright © 2004 Singerton Sculptures. All rights reserved.