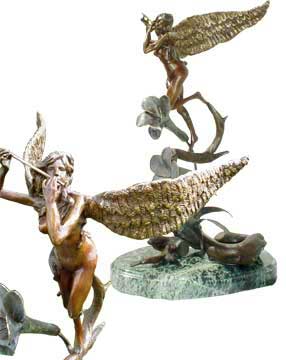 ENCHANTED GARDEN SPIRIT©
With shimmering bronze tone patinas and subtle garden accents, this delicate garden spirit lifts her flute in melody. As she hearkens to the whispers of nature's garden, she spirals upward to charm mortals in the language of her mythological spirit. Finely detailed down to the lilies at her feet, the sculpture has the signature touch of master sculptor, Ronald Singerton.

Edition Size: 15
Hot Cast Bronze - Limited Edition
Approximate Size: 23 1/2"H x 13 1/2"W x 15"D
Catalog Number: 26B
PRICE $1495
Enchanted Garden Spirit is an exclusive copyright of Singerton Fine Arts. For further information of assistance, please contact Singerton Fine Arts.
[Return to Bronze Sculptures Listing]
Contact Us for orders, questions or concerns!
Web address: www.singertonfinearts.com
Last updated February 1010
Copyright © Singerton Sculptures. All rights reserved.