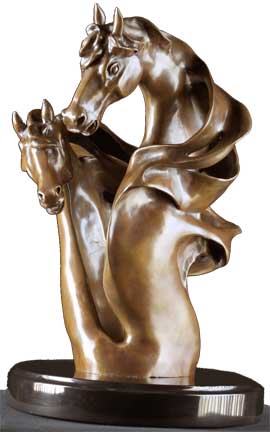 MARES OF THE MIST©
Once again, a Ron Singerton sculpture takes us on a delightful artistic journey. He has chosen an ethereal swirl of manes to create an apparition of classic equine majesty.
Hot cast bronze... "rising above the mist of earthbound dreams..."
Edition Size: 50
Approximate Size: 18"H x 11 1/2"W
Catalog Number: 24B
Black Marble Swivel Base
Casting Required: 4-6 Weeks Delivery
PRICE $1795
Mares of the Mist is an exclusive copyright of Singerton Fine Arts. For more information or assistance, please contact us.

Contact Us for orders, questions or concerns!
Web address: www.singertonfinearts.com
Return to Bronze Sculpture Listing
Last updated February 2010
Copyright © Singerton Fine Arts. All rights reserved.