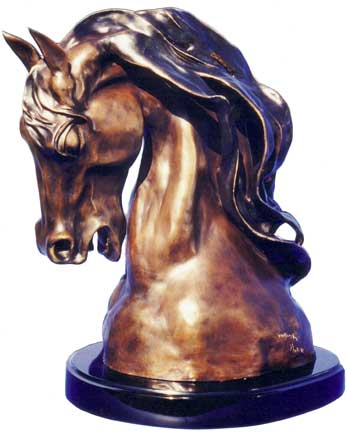 This award winning hot cast bronze sculpture is a Limited Edition of 50.
It was Ron Singerton's love of Civil War re-enactments that provided the vision for this dynamic sculpture. On July 2, 1993, at Gettysburg, Pennsylvania, Ron participated in the one hundred and thirty year re-enactment of the great battle.
HIS STORY. .
"In the re-enactment of that traumatic day, a Union cavalry detachment thunders across broken ground toward Confederate artillery.
Suddenly, a rebel yell erupts over the din of battle. Out from behind a grove of trees, an enemy brigade advances; its rebel yell louder and more horrible than the din of battle.
Startled, a horse spins wildly and a Federal Trooper is thrown into the high summer wheat. Stunned, he hears the Confederates, bayonets fixed, running toward him. And, then another sound; a wave of Union cavalry coming to his rescue.
Reaching up, he sees a dashing Captain on a bay mare. The officer pulls hard on the reins...the nostrils of the mare are wide, the eyes flaming, the head pulled against the chest. The horse rears and the black mane swirls in the hot afternoon wind.
The trooper swings up behind the Captain and they bolt across the filed. So daring is it, that the confederates cheer their foe.
I was the un-horsed trooper and indelibly etched in my memory is the visage of that mare and the wind in its mane.
As a sculptor, I vowed to someday create the essence of that image...And now it is done."
Edition Size: 50
Approximate Size: 25"H x 14 3/4"D x 22"L
Catalog Number: 20B
Black Marble Base
PRICE $2895
The Wind and the Mare is an exclusive copyright of Singerton Fine Arts.
Contact Us for orders, questions or concerns!
Web address: www.singertonfinearts.com
[Return to Top] or [Return to Bronze Sculptures Listing]
Last Updated February 2010
Copyright © Singerton Fine Arts. All rights reserved.